Standard 100 by Oeko-Tex
The Standard 100 by Oeko-Tex product label, introduced (as Oeko-Tex Standard 100) in 1992, certifies adherence to the specifications of the standard by the same name, a document of testing methods and limit values for potentially harmful chemicals. This independent testing and certification system may be applied to textile materials, intermediate products at all stages of production and ready-made textile articles. Examples of eligible items for certification are raw and dyed finished yarns, raw and dyed finished fabrics and knits, and consumer goods (all types of clothing, home and household textiles, bed linen, terry cloth items, textile toys and more).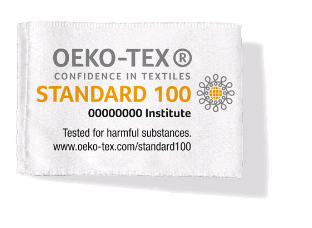 Objective
The Standard 100 by Oeko-Tex aims at making it obvious to consumers that the labeled textile products have undergone laboratory testing for a wide range of harmful substances, and that the content of those substances remains below the limit values established by the Oeko-Tex Association.
The introduction of the standard established a globally standardized quality assurance system for manufacturers and retailers, taking into account the decreased vertical range of manufacture in the individual facilities of the textile and clothing industry, and compensating for regionally different evaluation standards for the risk potential of harmful substances. Use of the Oeko-Tex certificate documents compliance with human-ecological requirements to subsequent production levels and consumers. The requirements for obtaining the certificate are updated at least once a year based on new scientific information.
Gllquen Baby® has been certified by OEKO-TEX and OEKO-TEX 100.